Who Pays for Medical Bills After a Car Crash?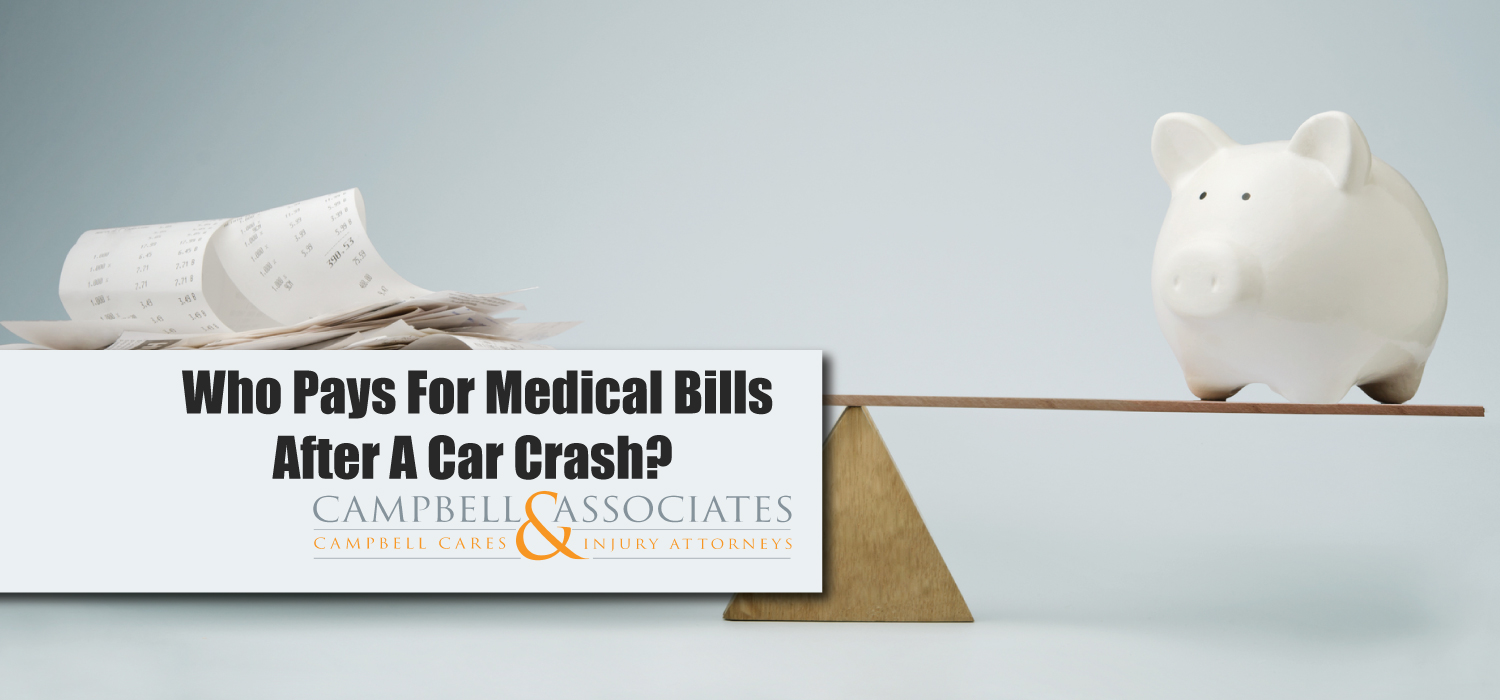 After being involved in a car, truck or motorcycle accident, severe injuries can result in hospital stays and long-term treatment, rehabilitation, and recovery. As medical bills begin to pile up, you might begin to wonder how you'll pay them on time.
Before writing the hospital a check, learn the many ways you can address your medical bills after a car wreck.
If you have been seriously injured in a car accident, contact a Campbell & Associates lawyer at (704) 333-0885 or schedule a free consultation today.
Locate Payment Sources for Your Medical Bills
For most victims of North Carolina auto accidents, you are entitled to receive compensation for injuries and medical bills. To do this, you typically have two options:
• File a claim with your personal car insurance company
• File a personal injury lawsuit against the at-fault driver
Depending on the types of coverage and policy limits, you may have multiple ways to recover
compensation, including:
Liability Insurance
In North Carolina, drivers are required to carry a minimum level of liability insurance:
– $30,000 for bodily injury liability, per person per accident
– $60,000 of total bodily injury liability per accident; and
– $25,000 of property damage liability, per accident
You can file a claim against their liability insurance policy, including the amount of your reasonable and necessary medical expenses, up to the driver's policy limits.
Uninsured/Underinsured Insurance Coverage
Your own car insurance may help you pay your medical bills after a car wreck. North Carolina also requires that your insurance coverage include uninsured and underinsured motorist coverage (UM/UIM) in order to provide additional money when the at-fault driver has very low policy limits that will not cover your medical bills (or if the negligent driver fails to carry insurance at all).
Medicare/Medicaid/Health Insurance
If you have health insurance through your employer or through a public agency, you should submit your bills to pay the cost of your accident-related charges. However, if one of these services initially pays your medical expenses, you may be required to reimburse these services if you eventually receive compensation or a settlement from the driver's insurance company.
Med Pay
Med Pay is an optional form of motor vehicle insurance coverage in North Carolina. After a car crash, Med Pay should cover your necessary medical expenses up to your policy limit (although it won't compensate you for lost wages, income or pain and suffering). Unlike most other types of insurance coverage, you do not have to prove fault or liability to receive compensation from Med Pay, so you may still have a valid claim even if you caused the crash.
Workers' Compensation
If you get injured in a work-related accident and you make a workers' compensation claim, theworkers' compensation insurer may cover your related medical expenses. However, workers' compensation is an "exclusive remedy," which means that once you obtain benefits from workers' compensation, you can't file any other claims related to that injury.
Ultimately, if none of the above types of coverage will cover your bills—or if the different policies don't apply—then you will be held responsible for the balance. Determining the best type of coverage can be daunting, but you can contact our experienced personal injury lawyers to help.
If Your Health Insurance Company Pays for Your Medical Expenses, What Happens Next?
When a health insurance company has paid some or all of an accident victim's accident-related medical expenses, they cannot demand repayment of medical bills that they've already covered under North Carolina law.
However, it is important to note that Medicare, Medicaid, and different types of self-funded health insurance plans are allowed to seek reimbursement for any payment of an accident victim's medical expenses.
These types of health insurance situations can become complicated and have major consequences if not handled by an experienced NC car accident attorney.
Contact Car Accident Lawyers in Charlotte, North Carolina
At Campbell & Associates Law, we know that serious car accidents can leave you with serious medical needs, in addition to medical expenses. If you or a loved one has suffered injuries due to someone else's negligence, we can help you choose how to move forward.
To schedule your free consultation, call our offices today at (704) 333-0885 or schedule a free consultation