Stay Safe: 8 Tips for Summer Travel Driving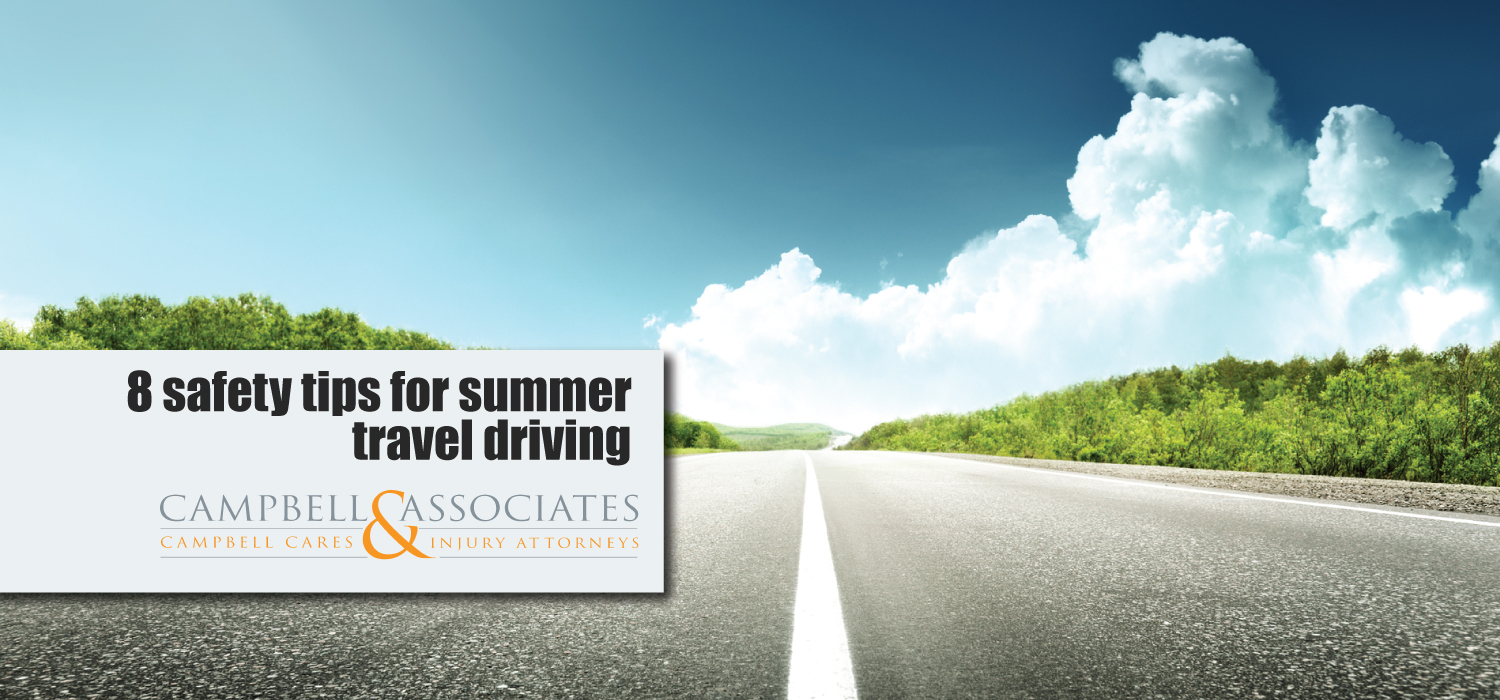 During the summer months, residents in Charlotte and Mecklenburg County relieve stress and enjoy family with extended vacations and spontaneous getaways. Few things match the fun of a road trip.
But before you hook up that new boat or camper, or hit the road in your car, SUV or pickup, a little prevention and planning can spare you the consequences of a breakdown—or worse yet, a highway car accident.
8 Tips to Prevent Problems on Your Roadtrip
Take time before your travels to ensure that car troubles won't be in your vacation plans with the following tips:
1. Get Your Car Serviced
Regular maintenance such as tune-ups, oil changes, battery checks, and tire rotations significantly improve your car's performance and prevent breakdowns. Typically, if you've serviced your car based on the manufacturer's recommendations, you should be safe to travel. If you're unsure of your car's service history, schedule an immediate preventive maintenance checkup with your mechanic.
RELATED ARTICLE: Why Do Car Accidents Happen More Frequently in the Summer?
2. Go Over Your Vehicle Safety Checklist
The mountainous terrain and steep grades throughout North Carolina, particularly on famous roads like the Blue Ridge Parkway and the Cherohala Skyway, offer scenic views in addition to opportunities for roadside hazards. It's important to perform basic safety checks before you head out, including checking the following:
• Tire pressure, tread wear, and spare availability
• Functioning headlights, brake lights, turn signals, emergency flashers, and interior lights
• Antifreeze (coolant) level and servicing needs
• Fluid levels for oil, brakes, transmission, power steering and the windshield washer
• Signs of bulges, blisters, cracks or cuts on belts and hoses
• Wear and tear on both sides of wiper blades
• Air conditioning function
Not only can a full safety check prevent inconvenient breakdowns, but it can also keep you safe.
3. Pack an Emergency Roadside Kit
Whether you're facing sudden inclement weather in the rural mountains or driving through long stretches of cornfields in the Midwest, an emergency roadside kit can keep you safe if your car should break down. While a cell phone tops the list of necessary items, the following are suggested resources:
• Cell phone and charger
• First aid kit
• Flashlight
• Jumper cables
• Tire pressure gauge
• Jack for changing a tire
• Basic repair tools
• Nonperishable food and drinking water
• Extra windshield washer fluid
• Maps
• Emergency blankets
4. Fill Up
While an initial fill up is top of the list before heading to the highway, many people don't realize that climbing steep grades in mountainous regions requires more fuel than the typical drive. Cell phone service, sparse gas stations, and spare shoulders can create a hazardous situation if you run out of fuel. Simply avoid this scenario by filling up completely before heading into mountainous stretches of your drive.
5. Watch Your Temperature Gauge
An overheating car typically means that the coolant is not circulating properly, that the coolant is low, or that your cooling system hoses may have become disconnected. If the temperature gauge rises above the safe zone, turn on the heat in your car, slow down and find help at the next opportunity. If the engine nears the red zone, or the "hot" light is on, stop driving and make an immediate call for help.
6. Map Out Your Trip Before You Leave
Old-fashioned maps are often a backup method to getting around when smartphone GPS apps and Garmin-type devices are simpler to use, but they are essential when rural areas offer weak or inaccurate service. To prevent wrong turns, plot out your trip on paper before you leave.
7. Stay Alert and Share the Road
Long road trips, particularly trips with young family, can be made easier with frequent roadside pullout stops to return calls, text messages, re-fuel, and change drivers when one becomes fatigued. When you're the driver, your one task is to keep your eyes on the road and hands on the wheel. It's also essential to remain alert for pedestrians and cyclists, particularly as you enter urban areas.
8. Avoid Risky Driving Behaviors
Not only can impaired driving put the driver at risk, but it threatens the lives of passengers and all others who share the road. Similarly, distracted driving impairs a driver's ability to focus on their one task. Cell phone use, texting, eating, drinking, and interacting with portable electronic devices should be saved for safe places off the roadway.
What Should You Do If You've Been in a Car Accident?
Even safe drivers can find themselves in a car accident, particularly from another person's negligence. If you've been in a crash, ensure everyone's immediate safety, call 911 to contact police, exchange essential information with other drivers, and document the circumstances of the accident and conditions at the scene.
Even if you don't require emergency medical treatment, make a doctor's appointment right away if you have any injuries, even minor ones. There may be underlying medical issues that need to be addressed in the future.
Contact a Campbell & Associates Car Accident Lawyer
The experienced personal injury attorneys at Campbell & Associates are committed to helping injury victims following a car accident. If you or someone you love has been injured in a motor vehicle accident, please contact our office to set up a free, no-risk consultation and learn about your legal options. Call for a free consultation at (704) 333-0885 or online for a free case evaluation.