Do Pre-Existing Conditions Affect Personal Injury Claims in North Carolina?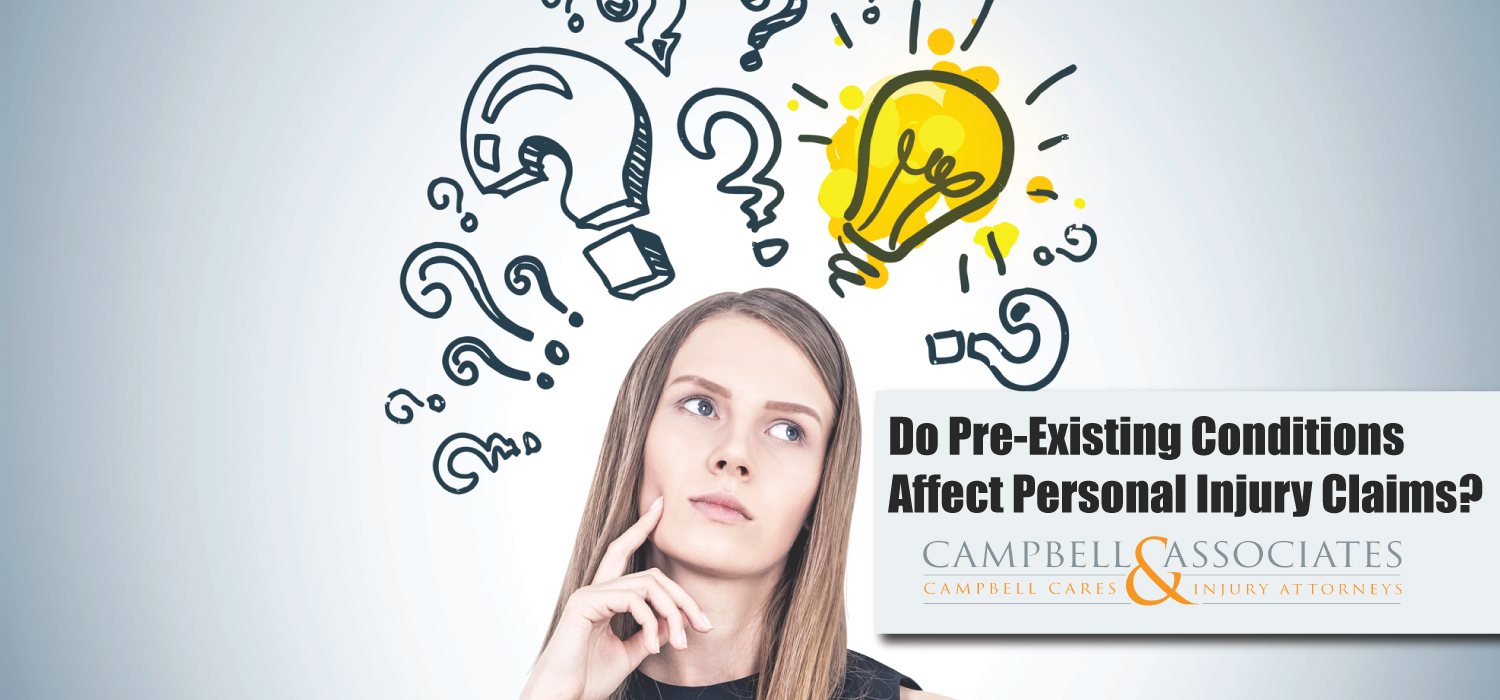 In most accident and injury cases, a victim faces questions from the opposing party's insurance company about pre-existing conditions. And while it's common for people to deal with a variety of health conditions throughout their lives, what impact do pre-existing conditions have on personal injury claims and compensation?
Although a victim isn't entitled to compensation for injuries and conditions that existed before an accident, they may be eligible for injuries that were made worse by the event. This refers to the degree that the accident made them worse or aggravated the condition.
Thankfully, victims can receive compensation for both resulting physical injuries and mental conditions like anxiety and depression. If you have a pre-existing condition, fighting to be rightfully compensated takes the skill of experienced personal injury lawyers.
Contact a Campbell & Associates lawyer at (704) 333-0885 or schedule a free consultation today.
Why It's Important to Disclose Prior Injuries
Once you've been in an accident, it's important to be honest with your injury attorney about the conditions that already existed at the time of the event. When people fail to disclose these conditions, the victim loses credibility, jeopardizes their claim, and exposes themselves to legal action if the defense finds out about the omission.
In many cases, an injury victim who has regularly received medical treatment will actually have adequate medical records to prove that their pre-existing condition was worsened by the accident. Prior injuries and conditions offer a concrete way for judges, juries and lawyers to see how someone has suffered because of a subsequent event.
For example, previous levels of pain can be compared with the amount of pain you're currently suffering. X-rays from years past can be compared with ones taken following the accident. You may have even gone months or years without needing treatment, while treatment resumed after the accident.
This evidence will support your current claim for medical costs and other damages, like lost wages, rehabilitation and pain and suffering.
What the "Eggshell Skull Rule" Means
In some instances, a person's pre-existing condition may make them more susceptible to injury in an accident, but it doesn't mean they're less entitled to compensation.
The "eggshell skull rule" or "eggshell plaintiff" theory generally applies to all personal injury claims, and it states that the relative frailty of the injury victim is not a valid defense against a claim.
For example, if a person would likely not have been injured in an accident—but happens to be a hemophiliac who bleeds extensively and may even die—the negligent person would still be responsible for those injuries.
The most important conclusion to take from this rule is that no victim should hesitate to reach out to a lawyer if they were injured due to someone else's negligence, regardless of health conditions and injuries prior to the accident.
Contact Campbell & Associates Personal Injury Lawyers
If you or a loved one has been injured in an accident that caused your pre-existing medical condition to worsen, or you're concerned that the negligent person who caused your injury will claim your injury existed prior to the accident, you need experienced legal help.
Campbell & Associates personal injury attorneys will review your case and let you know what legal options are available for pursuing compensation.
Call our offices today at (704) 333-0885 or schedule a free consultation now